in case you missed workshop #1 #2  OR #3
EFFECT DRIVEN - A NEW PATH TO HAPPINESS (#1 OF 4)
EFFECT DRIVEN- A NEW PATH TO HAPPINESS (#2 of 4)
EFFECT DRIVEN WORKSHOP- A NEW PATH TO HAPPINESS (#3 OF 4)
Welcome Bmindfullers:
Announcing the final  segment  of EFFECT DRIVEN- A NEW PATH TO HAPPINESS #4 of 4
It is one of Bmindful's  Free and Ridiculously Rewarding  Workshops. This  current awesome series is facilitated by The Magician;
 (Laura Kohn LMHC,CHT). 

I now introduce to you The Magician;Laura Kohn
While my credentials label me as a Licensed Mental Health Counselor and Board Certified Hypnotherapist, I think of myself more as a magician. I help others to see, connect with, and create magic in their lives. I want to help people return to the place where they can live in wonderment, where they know how to play, and where instead of aspiring to live in the "know" they aspire to live in the mystery of life and the universe. My psychological bent if you will, is Jungian but nontraditional. I help people explore the relevance of ancient wisdom traditions, indigenous teachings, and the esoteric philosophies and how they can apply this information to their lives today to make miracles happen. Do you remember when you were able to play with wild abandon and entertain yourself for hours on end just by using your imagination and creativity? That my friends is the trip I intend to take you on. Along the way I hope to impart some interesting and useful information but most of all I want us to have FUN! I don't purport to peddle truth, I'm here to give you ways to think about things. Join our group of explorers of consciousness and learn to reclaim the wonderment and innocence at the core of your being once again. The Magician has come to town and has many wonders to show the most discriminating of seekers!
Laura Kohn is a Licensed Mental Health Counselor and Board Certified Hypnotherapist in private practice in Fort Lauderdale, Florida. She does in person counseling, hypnotherapy, and group workshops around the country. She works with clients in person, over Skype, and by phone. She is also CEO of The Ascendant Empowerment Foundation which seeks to change the paradigm from scarcity and competition, to collaboration and abundance by showing its students the just and proper exercise of power through in person trainings and experiential workshops. You can check out her Facebook pages at "Laura Kohn Group" or "The Ascendant Empowerment Foundation" or visit her website at .LauraKohnGroup.com and www.aefoundation.com for info on upcoming workshops or trainings.
   Hello my lovelies!  It's hard to believe it's been a month already but here we are.  So this is the space where we are going to tie the first three weeks of our seminar together so you can apply these principals on your own.  At the seminar's beginning we introduced the concepts of dualistic beliefs or polarities in our thinking, and how these limit our ability to accurately see what is around us.  This is what I refer to as 2 dimensional consciousness or 2D.  Carl Sagan refers to this concept as Flatland.  If you want to see how polarity thinking restricts our version of reality and learn about how dimensions work I highly recommend this short video.  It's only 11 minutes long but if you get this it's your first step to breaking out of 2D.
                As I stated we began our journey looking at the concept of polarized thinking, and how it limits our reality.  Our very first step in altering our resonance or emotional state – and well before we are able to move into a new reality – is for us to simply recognize when we are operating from duality or Flatland.  And we can recognize it when we are there by becoming aware of, and examining, our emotional state.  But when and where will that be you may ask?  It will be when we feel pressure, anger, fear, hopelessness, or depression.  That's when we know we are positioned at one end of the polarity.  The energy of Flatland is constriction.  That is how we can always recognize when we are there.   Changing our resonance requires finding a thought that is slightly better or even just neutral.  And we can do this by scanning for what is different.
Let's look at some examples with different scenarios:
If I am irritated with my partner, is it because I am thinking I am right or they are wrong?
Do I think they should be doing, thinking, or feeling something different?
If I am judging myself harshly, when do I last remember looking at my standards to see if they are still realistic?
Is it that I can only see one option in this situation that will lead to a positive outcome?
Does my negativity feeling truly match the severity of the situation?
Am I assuming the worst…or the best?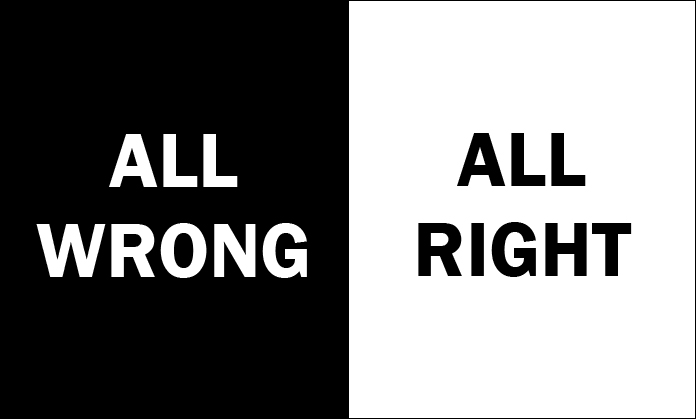 "The trick to being happy isn't to live in the know, it's to live in the mystery."