Nancee1953
Posted on 11/08/2017. Last edited on 21/05/2019.
 Soul Food Series Archives In Process
Living In The Frequency of Love
 "The light of love, the purity of grace,
The mind, the music breathing from her face,
The heart whose softness harmonized the whole,—
And oh, that eye was in itself a soul!"
―Lord Byron
 One of the most amazing gifts you receive when you are living in the frequency of Love is "Grace".  What is grace you ask? Grace is not one thing, but a multitude of gifts under the umbrella of "Grace", from the feeling of overall well being, ease, joy, peace, security, happiness, forgiveness and acceptance. It is a glorious feeling of knowing that all is well, in complete balance and harmony, alignment with all that is. The greatest sense of Freedom imaginable for you are  free to live and experience life to the fullest.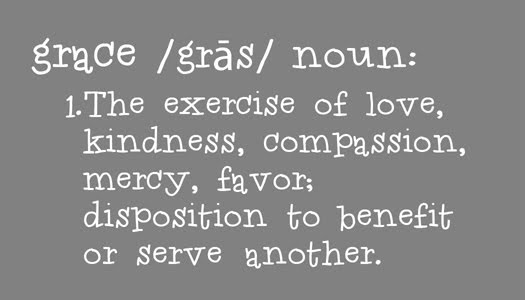 ​
www.artofgrace.org
What is Grace? What is more comforting than friends, more attentive than a lover, more healing than good health, more awe-inspiring than the most beautiful music ...
​When you are living in the state of  "Grace" a beautiful transformation  occurs, not to the extent of which the caterpillar morphs into a  butterfly, but in some ways it is magically similar. A change occurs in the core of your very being  you are able to actually feel. It is as though previously you have been carrying around with you a ton of weights. These weights/bricks are comprised of experiences in life, encounters and perceptions that you have formed on the journey. As the Love inside of you begins to expand, filling and illuminating  your entire being from with in,  the feeling of "Grace" begins to gradually remove  them to the extent that you find you are no longer weighted down,  you feel so totally free, light as a feather. 
bodysoulmind.net
The Spiritual Law of Grace….. tells us that 'grace' is a Divine dispensation of mercy. Grace dissolves karma, changes matter and creates miracles.
​
​
​ 
The very essence of  "Grace" enables you to experience true Freedom. Free from what you may ask? Free to disengage from certain things, habits, people, perceptions, all elements of negativity disappear as your perception of all things us altered.  You come to a point where you are able to see clearly what is true and important not only to yourself, but to all of humanity as well. You feel the connection and begin to understand that everything that happens and everyone is relative in the total scheme of things, in existence as we know of it.  You develop a profound sense of acceptance, patience and tolerance.  Your senses are heightened along with your awareness. The gratitude inside of you blossoms like  a beautiful flower as you become increasingly aware of the magnificent gifts that abound.


 

www.lightomega.org

The inner sense of peace permeates one who lives in a state of grace, as does the feeling of abundant love which flows through the deeper levels of being like a river ...
​
www.chopra.com
When you let go of your wants, your biggest desires are fulfilled. Learn to go with the flow of grace so that you're open to the good things the universe has in store ...
​​ 
 

 

ARTICLE-LINK HERE

www.evolvingbeings.com

What do patience, grace, and desire have in common? Together, they weave the fabric that will envelop you with joy and inner peace or suffering and turmoil.
 

www.artofgrace.org

Benefits of Grace. Although traditionally thought of as a religious concept with benefits only for believers in God, the experience of grace is available to and ...
 

www.youtube.com

A spiritual tool helping you self-heal. The secret video is using the Law of Attraction to reprogram yourself with this art, music, and meditation affirmations.

VIDEO
​