Lee
Posted on 13/03/2009. Last edited on 01/12/2015.
I've posted about RSS and bmindful before, but I've just come across a MUCH simpler way of explaining what RSS is, why it's useful and how to use it.
Visit this video: RSS In Plain English
Now that RSS has become demystified and you understand the benefits of it and how to use it, here's some of the cool content on bmindful you can access via RSS:
The bmindful Article Feed
The bmindful Recent Affirmations Feed
The bmindful Recent Comments Feed
Lee's Twitter Updates Feed
And then the big one!
You can get your affirmations delivered EVERY DAY via RSS!
This is a great way to be reminded of your personal affirmations EVERY DAY. An effortless way to be reminded to practice your affirmations and a fantastic way to encourage success.
Click on My Affirmations on the main navigation bar, then scroll down to the top of your affirmations and click on the My Affirmations Via RSS link! It's as simple as that!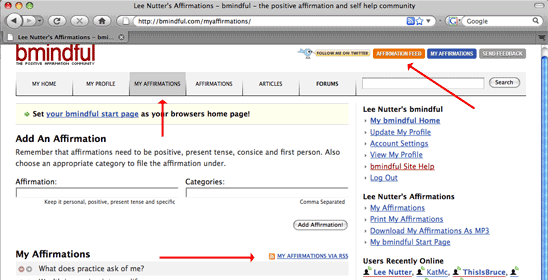 Please note that this feature requires a premium account. Click here to upgrade to a premium account now
"How easy it is in our life, to miss what's being offered." — Paul Haller