Nancee1953
Posted on 30/03/2017. Last edited on 23/03/2018.
Your feelings, temperament and disposition  are a major indication of your "Spiritual Wellness".  When your thoughts, values and actions come together  like stars or planets high in the sky in perfect alignment, a state of harmony is achieved, fostering a sense of overall well being. Your spirit is in an optimum state.  Life itself is perceived as  an extraordinary  gift.  
The dawn of a new day is greeted with joyful anticipation.
Excitedly you embark on a once in a life time adventure  to experience, enjoy and savor the new day, a day that has never been seen before. Your joy is undeniable, you  exude  confidence,  enthusiasm, satisfaction and contentment in knowing you are inexplicitly one with the Universe.  Recognizing  you are  pure energy, projecting, vibrating, living, experiencing, being all that is "You".  You find sheer delight and appreciation for this marvelous journey.  Attracting amazing opportunities, unexpected meetings, events that magically seem to manifest, seamlessly fitting together like the pieces of a puzzle creating something magically  beautiful,  the very best you. Identifying, recognizing and knowing your purpose is joyfully fulfilling. Increased awareness enables you to is freely explore/develop your creativity to artfully use your  gifts and talents in a  magnificent way as you journey to  the very center of you.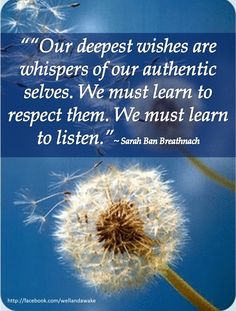 ​WHAT IS SPIRITUAL WELLNESS?
 

 

 

 

wellness.ucr.edu

Spiritual Wellness is a personal matter involving values and beliefs that provide a purpose in our lives. While different individuals may have different views of what ...
 https://wellness.ucr.edu/spiritual_wellness.html
​ 



 

 

www.youtube.com

Mind Soothing.Spiritual Motivation Video To Listen

 

Kindly take a moment to view video below
There is a profound sense of acceptance with knowing  you are a part of the flow of life that comprises the Universe. A sense of peace and feeling of serenity is achieved with recognizing you are exactly where you should be in this divine moment in time.  Through acceptance your appreciation of life is intensified as you   experience complete fulfillment and unbridled joy. 
Open this link for a wonderful piece:What is Spiritual Wellness? Spiritual wellness plays a bigger role in your life than you may think. It refers to an understanding of your true nature – who you are ..
www.loveorabove.com
.
 

 

www.youtube.com

This meditation nurtures spiritual health by offering a healthy bite of pure thoughts and and exercise to increase soul power and concentration. Brought to you by ...