ChoosingWonderful♡

Posted on 05/05/2017. Last edited on 05/10/2018.
Quote  Follow the timing of your human life. Sally Kempton tells the story of two radical callings in her life, and both times, she took the time she needed to make the changes she was called to make. You are living in a human body with human limits and needs. Proceed accordingly. (Note: your journey may be metaphorical, completely internal, quietly subtle and it is no less sheroic. You define what all of this looks like. Always.) ★ღ✰˚ ✰Jennifer Louden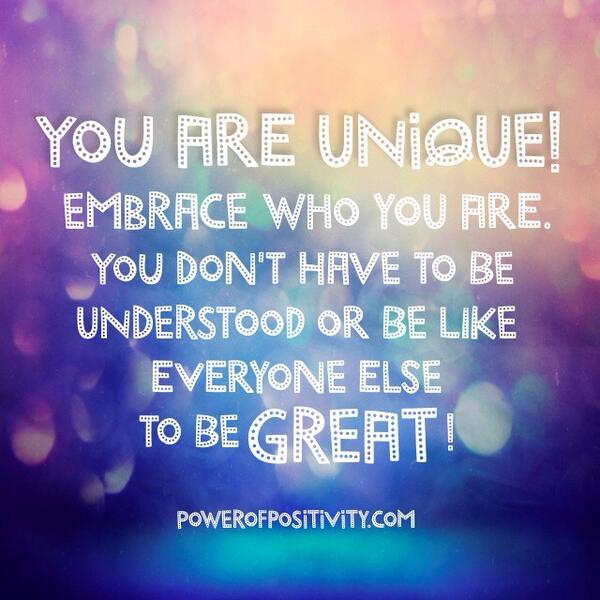 "Each of us is a unique strand in the intricate web of life and here to make a contribution." 
―Deepak Chopra
the path, the pace, the process are all mine to ownღ
Quote"We are sun and moon, dear friend; we are sea and land. It is not our purpose to become each other; it is to recognize each other, to learn to see the other and honor him for what he is: each the other's opposite and complement." 
― Hermann Hesse

 

 

 

A favorite quote of mine:

►•Perfectly Imperfect ― Steve Maraboli, Life, the Truth, and Being Free 

-We have all heard that no two snowflakes are alike. Each snowflake takes the perfect form for the maximum efficiency and effectiveness for its journey. And while the universal force of gravity gives them a shared destination, the expansive space in the air gives each snowflake the opportunity to take their own path. They are on the same journey, but each takes a different path.
 Along this gravity-driven journey, some snowflakes collide and damage each other, some collide and join together, some are influenced by wind… there are so many transitions and changes that take place along the journey of the snowflake. But, no matter what the transition, the snowflake always finds itself perfectly shaped for its journey
I find parallels in nature to be a beautiful reflection of grand orchestration. One of these parallels is of snowflakes and us. We, too, are all headed in the same direction. We are being driven by a universal force to the same destination. We are all individuals taking different journeys and along our journey, we sometimes bump into each other, we cross paths, we become altered… we take different physical forms. But at all times we too are 100% perfectly imperfect. At every given moment we are absolutely perfect for what is required for our journey. I'm not perfect for your journey and you're not perfect for my journey, but I'm perfect for my journey and you're perfect for your journey. We're heading to the same place, we're taking different routes, but we're both exactly perfect the way we are.
 Think of what understanding this great orchestration could mean for relationships. Imagine interacting with others knowing that they too each share this parallel with the snowflake. Like you, they are headed to the same place and no matter what they may appear like to you, they have taken the perfect form for their journey. How strong our relationships would be if we could see and respect that we are all perfectly imperfect for our journey

 

 

Quote The most ravishing experience you can have is of the mysterious, of living in consecrated curiosity, with the symphony of the universe playing through you and the still point laying claim to your heart. ★ღ✰˚ ✰ ☼Jennifer Louden

 

 

"Let's celebrate you now. As"Self-nurturing means, above all, making a commitment to self-compassion, to the
creation of a loving and positive attitude toward yourself." -- Jennifer Louden
are.

In all your glorious strength and
weakness, talents and quirks, victories and mistakes." -- Molly Mahar

 

 

 

 
Guide To Wholeness & Being Yourself by Jennifer Louden
1 Dedicate yourself to wholeness. Perfection appears to be a much sexier partner but is actually a demon lover who will suck you dry and leave you bitter and broken.
2 Acknowledge what you experience and how you feel. It's not about you being right and someone else being wrong, it's about claiming your experience. It's your experience and seeing it, feeling it, sitting with it, helps make you you.
3 Healthy desire birthed all of creation. Let it birth you, again and again. Being yourself springs from knowing what you want.
4 Healthy desire is never about perfection (outcome). It is about going deeper than your mood, deeper than your stories of what is allowed or possible, into the sensations and energy of desire itself, and letting that move you into inspired action.
5 Healthy desire is the source from which you renew your commitment to what matters most to you. Acting on that commitment will mean constantly unfurling into the unknown. The sooner you make peace with doing that (yes imperfectly which means people will be pissed off at you) the more energy you will have for adventure!
6 Every time you say "I can't because…" you are giving your power away to someone or something else, which is giving yourself away. Power is a foundational spiritual quality. Pretending that you don't have power or that you are not responsible for your life is the quickest way to hell. Trust me on this one.
7 Have practices that help you open your heart, love yourself, and witness your thoughts and reactions. Because here's the hysterical truth: there really isn't a separate self to be and that is the most delicious discovery of all.
8 Waste no time guarding the self you are forever becoming. It's one thing to have strong boundaries and another to jealously guard your heart.
I allow myself to live a life of ease around my highest values.